GROUNDSWELL
---
---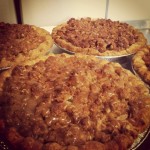 Pumpkin pie, honey caramel apple streusel pie, pumpkin gingerbread cupcakes, pumpkin walnut cranberry bread…
We're gearing up for Thanksgiving pies and baked goods!
Learn more, or place your orders online.
Note that all orders must be in by Monday, November 24th.
---
Groundswell is a small collaboration of coffee, bakery, craft beer and wine, food, and hand-crafted gifts neatly tucked away in the Hamline Midway neighborhood of St Paul. Groundswell is an experiment in…
culinary art. We love food and drink! Foods have inherent flavors, aromas, layers, and chemistry that we respect and love to play with. We think creating and serving food is an art form that brings people together!
attention to detail. The difference between good food and great food is in the details. Grams, ounces, volumetrics, and degrees matter to food and drink, so they matter to us! Close is not good enough.
simplicity. We will keep our space and menu options creative and simple. We will do a few things well.
humility (down-to-earthiness). Humility comes from the root word for human, which means dirt. We remember that even though we care about creating excellent food and drink, we do that from a humble corner in a down-to-earth neighborhood of St Paul.
interconnectedness. We are a human community that is interdependent. Our ethic of connection leads us to find sources that are fair to workers (fair trade), thoughtful about the integrity of the food (organic), and concerned with the ecology we leave for the next generation (sustainable).
fun. We will enjoy what we do and how we do it. When it is no longer fun, we will stop.
See what we're up to on Instagram:

Check out the latest happenings on our blog!